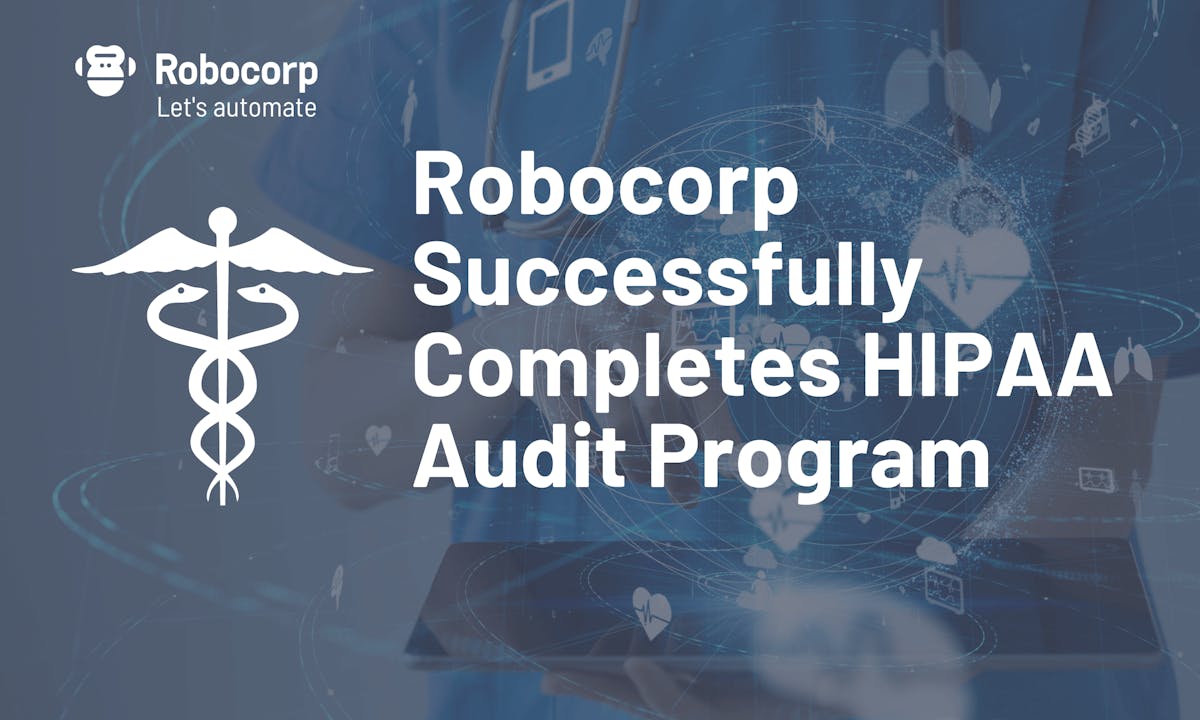 Robocorp, the leading provider of open-source robotic process automation (RPA), has completed an audit covering Health Information Privacy related to the Health Insurance Portability and Accountability Act of 1996, otherwise known as HIPAA. An independent accounting and auditing firm has reviewed and examined the company's data handling and security practices, ensuring that Robocorp meets the highest standards for protecting its customers' confidential information.
What is the HIPAA Audit Program?
HIPAA is a federal law that created national standards to protect sensitive patient health information from being disclosed without the patient's consent or knowledge.
The HIPAA Audit Program reviews the policies and procedures adopted and employed by covered entities and business associates, like Robocorp, to meet selected standards and implementation specifications of the Privacy, Security, and Breach Notification Rules of the U.S. Department of Health & Human Services (HHS). These analyses were conducted using a comprehensive audit protocol prescribed by HHS.
What's involved in the HIPAA Audit Program?
A trusted third-party auditor is responsible for selecting the HIPAA Audit Program criteria and assessing how Robocorp complies with the requirements that encompass:
Identifying applicable compliance requirements relevant to Robocorp activities.
Determining the types of services provided by Robocorp, including the classes of transactions and data processed that are impacted by the requirements.
Determining how Robocorp systems capture and address significant events and conditions other than transactions.
Implementing processes and procedures to address the requirements of the HIPAA Audit Program.
Identifying other aspects of the control environment, risk assessment process, information and communication systems, control activities, and monitoring controls relevant to processing and reporting transactions.
Establishing and maintaining internal controls to provide reasonable assurance that Robocorp complies with those requirements.
Evaluating and monitoring Robocorp's compliance with the HIPAA Audit Program.
Determining legal, regulatory, or contractual requirements and Robocorp compliance with those requirements.
Why it's Important, and Why it Matters
The examination was conducted following attestation standards established by the American Institute of Certified Public Accountants and required the third-party auditor to obtain reasonable assurance that Robocorp complied, in all material respects, with specified HIPAA protocols and requirements.
The audit is helpful to clients when considering a service provider's credentials. They apply to healthcare providers, payers, clearinghouses, and business associates that process health-related data, like Robocorp. The audit provides confidence that health data is protected and kept private.
Robocorp prides itself on delivering world-class security and privacy to our customers by following the industry's best security and data protection practices. Click here to learn more about Robocorp security. 
About Robocorp
Robocorp empowers businesses and teams to work smarter by shattering previous RPA and intelligent automation boundaries. The company makes it easy, affordable, and fast to build software robots and automate manual tasks with first-class, open-source process automation tools. It also provides a robust, secure orchestration and execution platform to allow customers to run both cloud-based and self-managed robotic automations with consumption-based pricing. 
Robocorp is backed by Benchmark, Canvas Ventures, Slow Ventures, FirstMinute Capital, Harpoon Ventures, Uncorrelated Ventures, Artisanal Ventures, Haystack, and angels. Robocorp is headquartered in San Francisco, with our primary offices being online. Learn more at https://robocorp.com/. 
Share this article