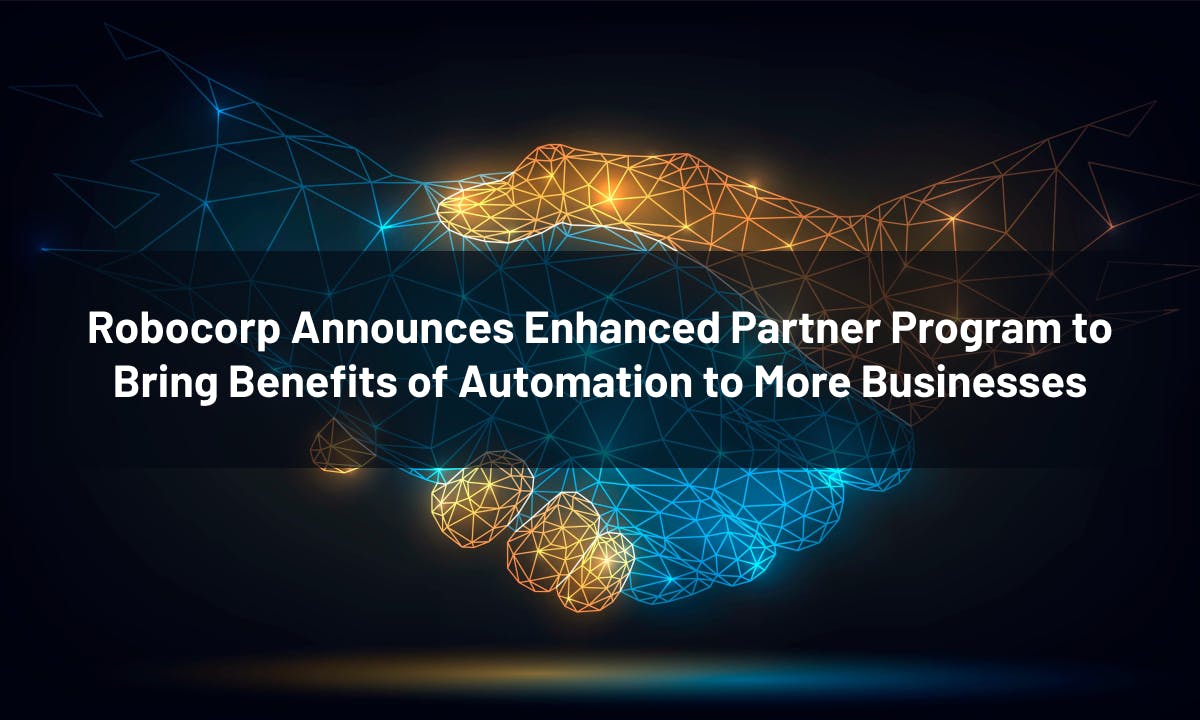 Robocorp Announces Enhanced Partner Program to Bring Benefits of Automation to More Businesses
The new program extends the capabilities of Robocorp's partners to unlock more opportunities and solutions to achieve business goals.
January 4, 2023
SAN FRANCISCO, Jan. 3, 2023 /PRNewswire/ -- Robocorp, the leading Gen2 robotic process automation (RPA) provider, today unveiled a new enhanced partner program to better support partners and service providers, and enable them to find greater success in creating, selling and delivering Gen2 RPA projects.
The partner program includes additions, such as the Partner Portal and a new Partner Tier system. Further, Robocorp has included updates to the pricing model and RPA MSP (Managed Services), and has modified the ways partners are able to go-to-market. Last but not least, the Partner Success team will be expanded in order to ramp up partner enablement with new trainings, certifications and assets.
Launching in February 2023, the Partner Portal will serve as the main point for managing business and communications and includes a new training and certification system, deal registration, partner- and account-plannings, and more. This portal will aid Robocorp partners as they build, market and sell RPA solutions.
The introduction of the Tiering system will better support partners as they grow and consolidate their position in the market. The new tiers will encourage partners to improve their skills, increase their investments and commitment, and continue to climb up the ladder of success.
"We're thrilled about these new additions to the existing partner program as they will enhance the experience of being a Robocorp partner and better support their success," said Robocorp Head of Partnerships Sebastian Toro. "We take a partner-first approach to our work as our partners have always been critical to our success. We look forward to continuing this journey together and pushing the boundaries of automation."
Over the past two years, Robocorp's partner ecosystem has rapidly grown and currently consists of more than 200 organizations around the world, from large global system integrators to boutique consulting and service companies. With this expanding ecosystem, Robocorp has updated several features of the existing partner program to ensure the opportunities and benefits of partnering with Robocorp are accessible to all, regardless of location or size. These updates include an enhanced pricing model, the most powerful RPA MSP offering on the market, a completely new Robot-as-a-Service product, and a new BPO offering that will re-imagine how outsourcing is delivered.
The new partner program will continue to take shape over Q1, utilizing feedback from partners to improve the experience and expand the enablement resources offered. More information will be shared throughout January and February as changes and updates are made.
For more details about how to become a partner, please see the partnership program page on our website.
ABOUT ROBOCORP
Robocorp empowers businesses and teams to work smarter by shattering previous RPA and intelligent automation boundaries. The company makes it easy, affordable, and fast to build software robots and automate manual tasks with first-class, open-source process automation tools. It also provides a robust, secure orchestration and execution platform to allow customers to run both cloud-based and self-managed robotic automations with consumption-based pricing. Robocorp is backed by Benchmark, Canvas Ventures, Slow Ventures, FirstMinute Capital, Harpoon Ventures, Uncorrelated Ventures, Artisanal Ventures, Haystack, and angels. Robocorp is headquartered in San Francisco, with our primary offices being online. Learn more at https://robocorp.com/.
Share this article