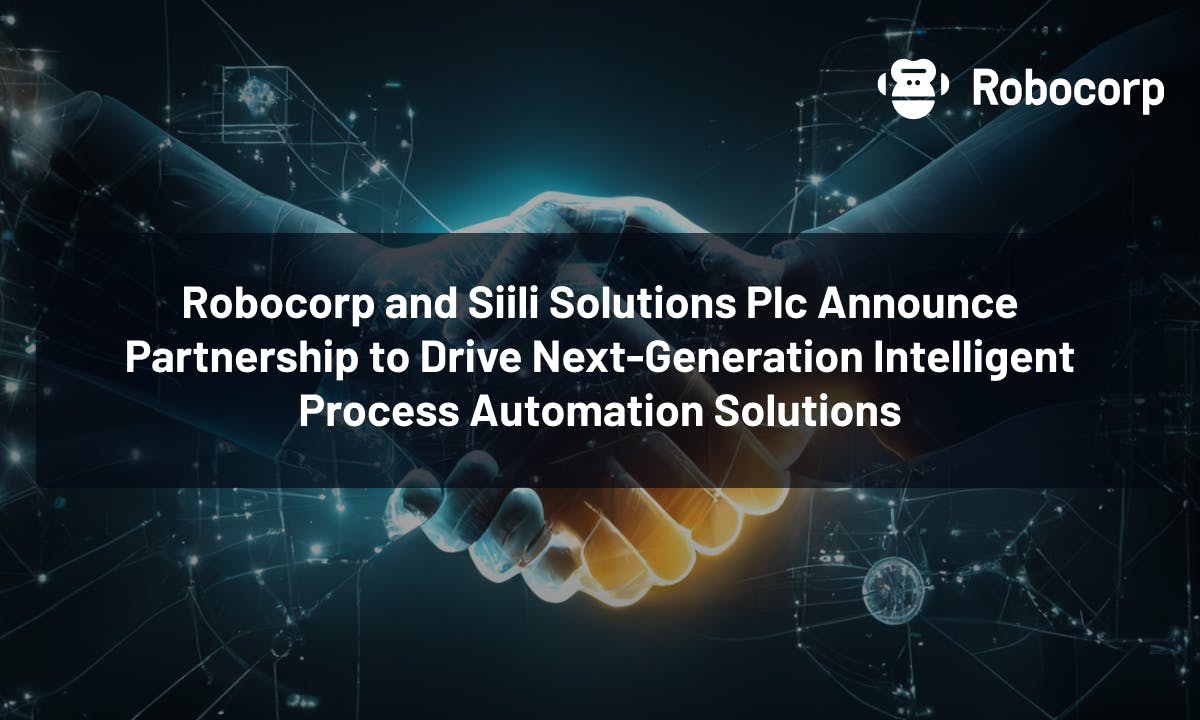 Robocorp and Siili Solutions Plc Announce Partnership to Drive Next-Generation Intelligent Process Automation Solutions
June 19, 2023
Helsinki, June 19, 2023 – Robocorp, the forefront Intelligent Process Automation (IPA) company, is announcing its new partnership with Siili Solutions Plc, a full-service development partner for innovating, designing, building, and running digital services. This collaboration brings together two champions of open-source automation and empowers organizations in their transition from legacy to new generation intelligent process automation.
Siili Solutions has been closely monitoring Robocorp's progress and journey, recognizing the value that Robocorp's technology offers for intricate and substantial automation challenges, unburdened by complex licensing models. 
Commenting on the partnership, Sam Salonen, Sales Director at Siili Skaler & Continuous Solutions, stated, "We see Robocorp as an excellent addition to our automation portfolio, extending the expertise of our automation developers and providing significant benefits to our customers as they transition to the intelligent process automation. We are truly excited about the collaboration and the opportunities it will provide to both our current and future customers."
Antti Karjalainen, CEO at Robocorp, expressed his enthusiasm for working with Siili, saying, "We are excited for the opportunity to work with Siili. The two companies share a history together, and Siili has the expertise of open-source RPA and automation excellence. We are also well aligned technically. We look forward to bringing new opportunities and efficiency to Siili's customers."
The partnership between Robocorp and Siili Solutions with their combined expertise, aims to redefine industry standards and deliver innovative, efficient solutions to meet the evolving needs of businesses in the digital era. By joining forces, the companies aim to deliver unmatched expertise and substantial benefits to customers seeking advanced automation solutions.
About Robocorp:
Robocorp is a leading Gen2 Robotic Process Automation (RPA) company dedicated to delivering open-source automation tools and services. With their cutting-edge technology, Robocorp enables organizations to automate complex processes and streamline operations, unlocking new levels of productivity and efficiency. For more information, visit www.robocorp.com.
About Siili Solutions Plc:
Siili Solutions Plc is a unique combination of a digital agency and a technology powerhouse. We believe in human-centricity in everything we deliver. Siili is the go-to partner for clients seeking
growth, efficiency and competitive advantage through digital transformation. Siili has offices in Finland, Germany, Poland, Hungary, the Netherlands, Austria, the United Kingdom and USA. Siili Solutions Plc shares are listed on Nasdaq Helsinki Ltd. Siili has grown profitably since it was founded in 2005. www.siili.com
See Siili Solutions Plc's Robocorp Partner Directory Listing
Share this article