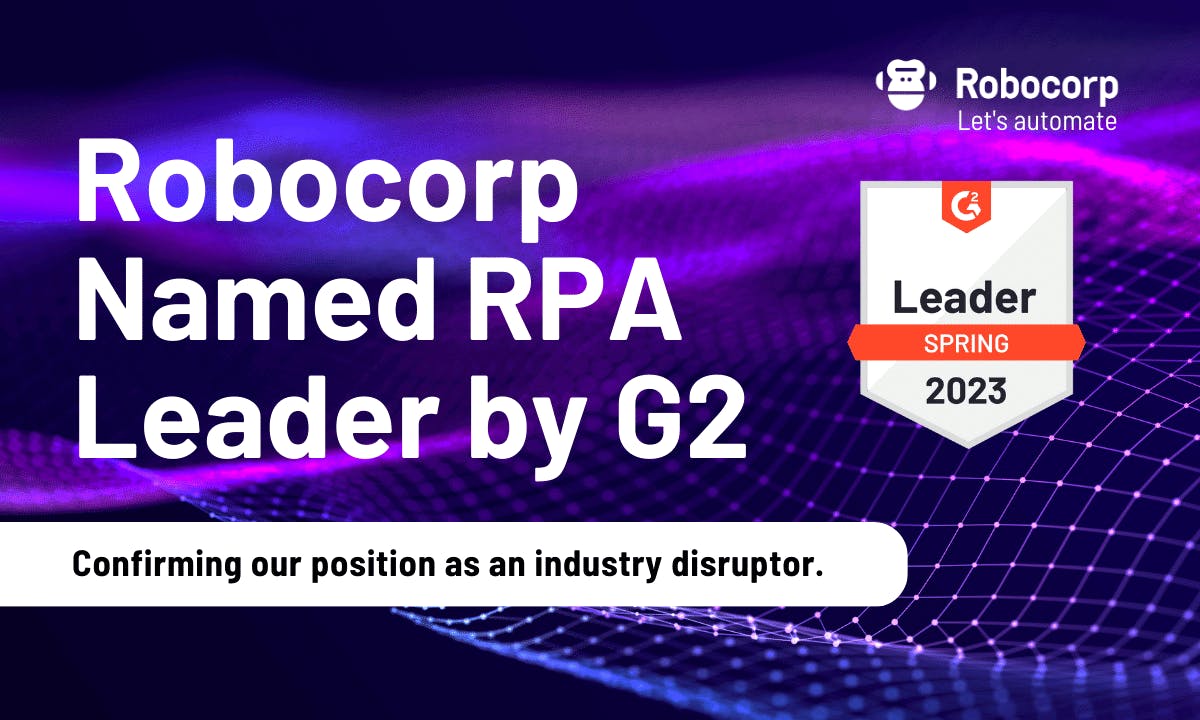 Robocorp Named RPA Leader by G2
We're honored to join an exclusive club of robotic process automation leaders on the industry's most trustworthy product review source.
April 3, 2023 – Scott Eddleman, Head of Product Marketing
Robocorp is excited to announce it's been named a Leader in G2's Spring 2023 Grid Report for Robotic Process Automation (RPA). We join a very short list of well-established competitors -  confirming that Robocorp's next-generation approach to RPA makes us a true industry disruptor. G2's Grid Report is a quarterly ranking of RPA software based on various factors critical to customer success. The report compares products based on customer satisfaction and market presence scores.
"At Robocorp, we take great pride in being a game-changer in the RPA industry and acknowledged as a Leader in G2's Grid Report highlights that mission. We are super excited about our growing community of next-generation RPA users and look forward to continuing to build and innovate advancements in python-based RPA and AI automations." - Dave Dabbah, Chief Marketing Officer at Robocorp
G2 is Unbiased
The platform provides unbiased product ratings and reviews for software users, helping technology buyers make informed decisions. Ratings are generated algorithmically using data from user reviews, online sources, and social networks without subjective input from G2 staff. Users verify their identity to maintain credibility and review their employers' products. All reviews are moderated before publication to ensure the platform's integrity.
But Wait, There's More
In addition to achieving Leader status, Robocorp was recognized as the…
Best Estimated ROI
Fastest Implementation
Most Implementable
Easiest to Do Business With
Higher Performer for Enterprises and in various key geographies.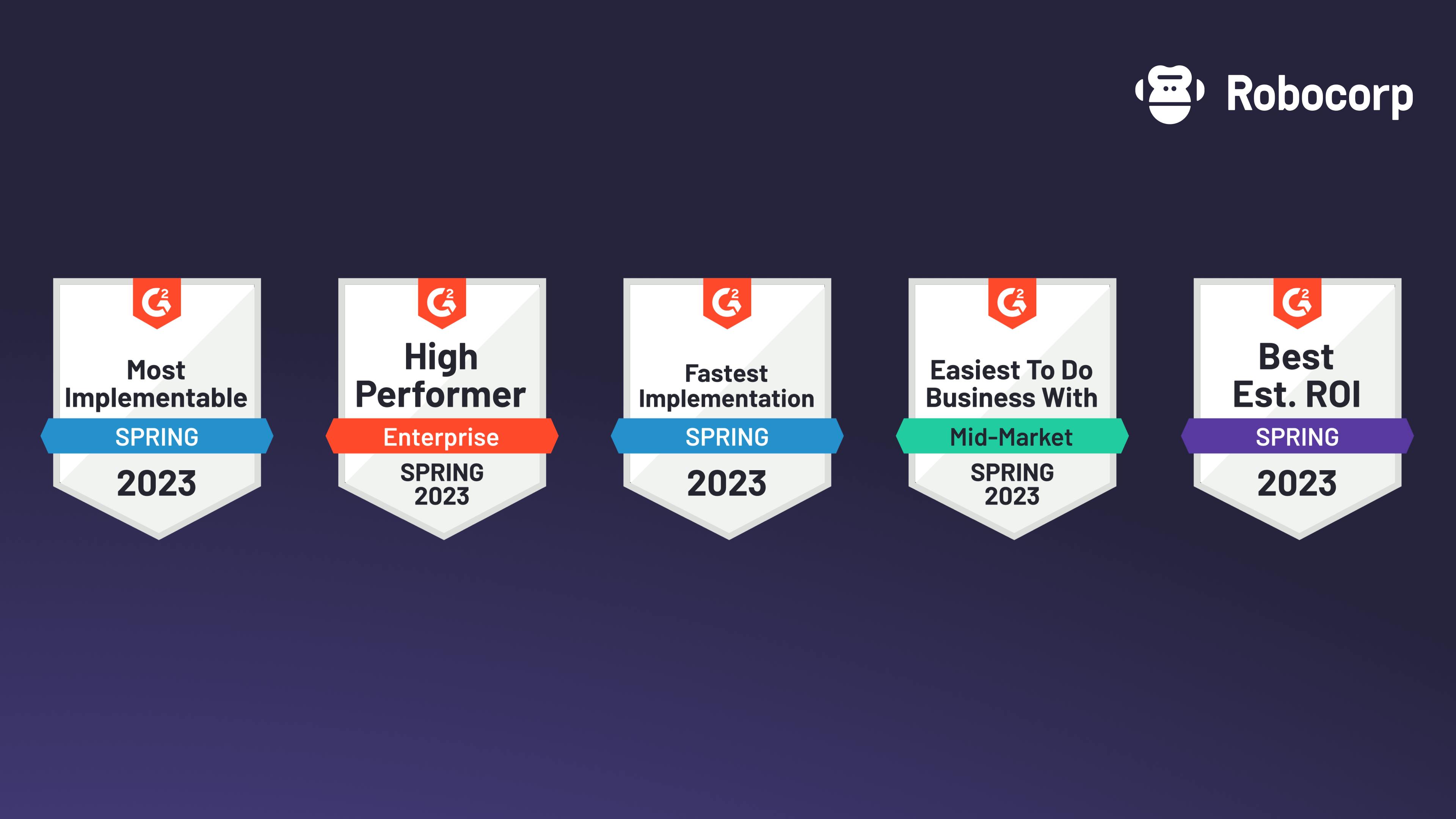 Robocorp is honored to be recognized as a Leader in G2's Spring 2023 Grid Report for Robotic Process Automation - a testament to our commitment to innovation and customer success in the RPA industry. As a trusted and unbiased source, G2's acknowledgment of our accomplishments underscores our dedication to providing exceptional value and service. 
Thank You, Customers!
We thank our dedicated users, whose high ratings and invaluable feedback have contributed to our success. Thank you for your unwavering support as we continue to disrupt the RPA landscape and empower businesses worldwide.
About Robocorp
Robocorp makes it possible for businesses and teams to work smarter by breaking down barriers between RPA and intelligent automation. The company makes building software robots and automating manual tasks easy, affordable, and fast with first-class, open-source process automation tools. It also gives customers a strong, secure platform for orchestration and execution that lets them run both cloud-based and self-managed robotic automations with pricing based on how much they use. 
Robocorp is backed by Benchmark, Canvas Ventures, Slow Ventures, FirstMinute Capital, Harpoon Ventures, Uncorrelated Ventures, Artisanal Ventures, Haystack, and angels. Robocorp is headquartered in San Francisco, with our primary offices being online. 
Learn more at https://robocorp.com/ 
Share this article