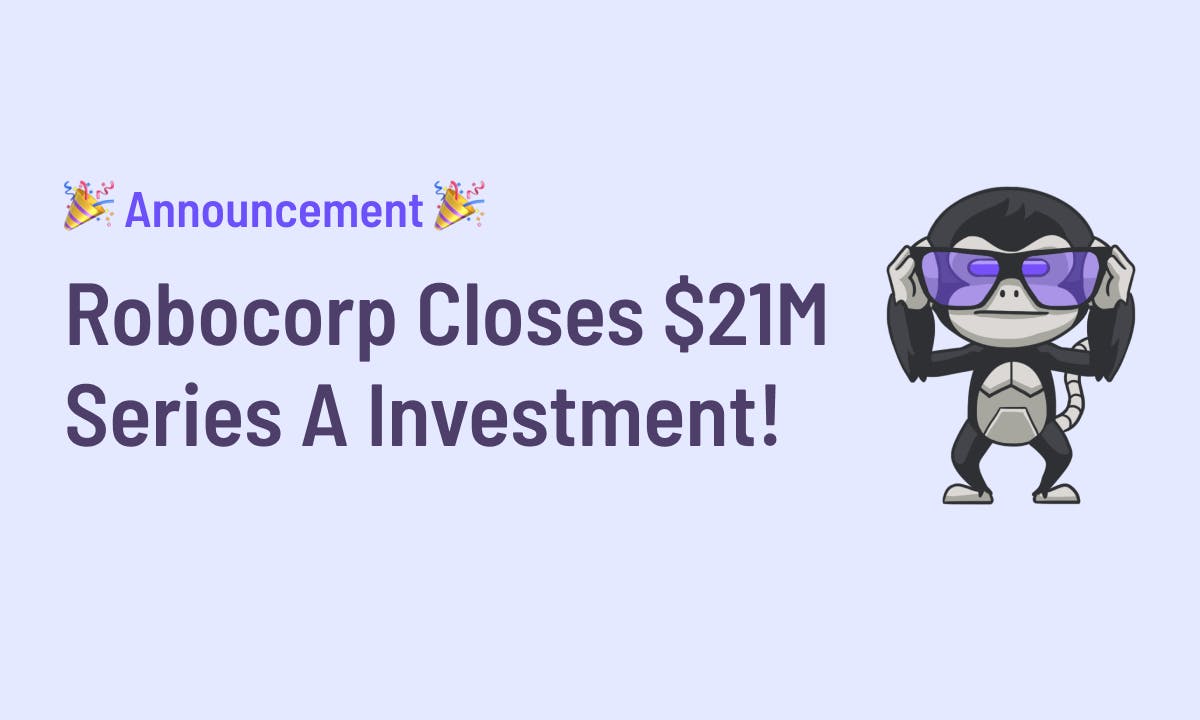 Robocorp closes $21 million Series A round, unveils Control Room platform
Robocorp leadership expresses gratitude to developer community and global partner network
June 22, 2021
It's official! Robocorp is proud to announce a $21M Series A investment round led by Canvas Ventures and with participation from Benchmark, Uncorrelated Ventures. Slow Ventures, firstminute Capital, Harpoon Ventures, and Artisanal Ventures.
Founded in 2019, Robocorp continues to disrupt the automation space with an open-source tech stack, a cloud-native automation management platform, and consumption-based pricing. In addition to the round of funding, Robocorp is unveiling a self-managed version of its orchestration and deployment platform, Robocorp Cloud.
"Robocorp offers the most cost-effective, most flexible automation platform whose technological prowess rivals that of massive RPA incumbents," said Grace Isford, Canvas Ventures Partner and Robocorp Board Member. "I'm very excited to partner with Antti and team and continue to bolster Robocorp's robust partner ecosystem and open-source community to democratize complex automation technologies and accelerate a fast-growing automation landscape."
"We have seen incredible growth over the past year, and today we're excited to bring Robocorp to even more markets and mission critical use-cases," said Robocorp CEO Antti Karjalainen. "It's been our goal to make Robocorp the most widely available, flexible, and powerful way to build and deploy bots. We're grateful for the vote of confidence by our investors that will help us lead this fast growing industry." 
Introducing Robocorp Control Room
Robocorp Cloud has been adopted by 1,000 organizations since its launch, but Robocorp heard from its customers and partners the need for a self-managed version of the platform. Therefore, Robocorp is renaming its orchestration platform to Robocorp Control Room, which now offers two deployment options—Robocorp Cloud, and the new Self-Managed (private cloud or on-premises) Control Room for enterprise customers, ISVs, Robot-as-a-Service partners. 
While nothing will change for current Robocorp Cloud users, the self-managed Control Room offers the ability to scale with security, governance, and control, and specifically: 
Advanced access control & SSO, custom data residency & compliance
User management system integrations such as Active Directory, OKTA, and Auth0 
Cloud-native and Kubernetes environments 
Unlimited data storage
Option to use your own database or robot container clusters
Ability to host Control Room on-premises or in your private cloud
Customized Infrastructure options for Robot container clusters; logging, analytics & BI tool integrations; and the ability to integrate your own analytics systems 
Annual licensing agreement 
Premium support & SLA 
Developer-first automation
Robocorp was founded on the notion that automations should be built by developers. To provide developers with a seamless experience, Robocorp built its technology in Python and provides robust documentation. Robocorp has built a community of more than 5,000 developers. In addition to building and deploying robots daily, members of the community actively exchange ideas through Robocorp's forum and public Slack channels, and they have proven a key to Robocorp's early success.
"Our ability to raise this round of investment is a testament not only to our tech stack, but to the community of developers who have built and deployed robots using our dev tools and orchestration platform," said  Karjalainen. "On behalf of my co-founders, I want to extend our thanks to our community who have used our technology, contributed robots, and provided us with such valuable feedback."
Global partner network
Since its initial product launch, Robocorp has relied on its partners to bring its technology to businesses looking to increase efficiency across business functions through automation. The result is a fast-growing global ecosystem of more than 60 technology partners, solutions integrators, and resellers across 15 countries on four continents. 
"We found Robocorp while looking for a low-maintenance RPA cloud alternative to the typical closed-source RPA software vendors that would allow us to control development at the code level," explained Alex Zekoff, CEO of Thoughtful Automation, a key Robocorp partner. "We can now scale horizontally from 1 to hundreds of bots without additional overhead and technical debt. Robocorp has helped reduce our operational overhead by 90% and improve robot run times by 60%. With a self-hosted deployment option, we are also able to serve even more customers and develop critical automation use cases."
With the self-managed deployment option, Robocorp partners can now offer their customers the option for a custom deployment to address specific security and data privacy requirements for the automation of mission critical, data-sensitive use cases in healthcare, finance, government, and more. Robocorp looks forward to solving new problems with its expanding network of partners 
Looking ahead
An active developer community and a strong partner network serve as a foundation for Robocorp's future. Paired with continued product improvements, the funding round will be essential to Robocorp's ability to scale the business and bring on more team members. Robocorp is partnering with Series A participant Artisanal Ventures in its search for top talent:
"It was Robocorp's approach to transforming RPA adoption that initially caught my attention, said Andrew Van Nest of Artisanal Ventures. "A python based, developer focused platform leveraging an intensely engaged open-source community was compelling. What excites us most at Artisanal is putting the GTM pieces in place to force multiply the sales motion."
Robocorp looks forward to growing its team, its developer community, and its partner and customer network in the coming months. 
About Robocorp
Robocorp empowers businesses and teams to work smarter by shattering previous boundaries of RPA and intelligent automation. It makes it easy, affordable and fast for developers to build software robots and automate manual tasks with first-class, open-source process automation tools. It also provides a robust, secure orchestration and execution platform to allow customers to run both cloud-based and self-managed robotic automations. Robocorp is backed by Artisanal Ventures, Benchmark, Canvas Ventures, FirstMinute Capital, Harpoon Ventures, Slow Ventures, Uncorrelated Ventures, and angels. It is based in the U.S. with primary offices in Finland.
Share this article